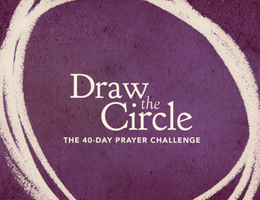 Do you pray as often and as boldly as you want to? Do you wish you could engage your family in praying with you? If you are searching for a deeper, more intimate prayer life for your whole family, join First Church for
Draw the Circle
, a congregation-wide prayer experience this Lenten season (March 2 – April 17). There are many ways for children, youth, and adults to participate: 
Find the Google link here to register for one of the upcoming small groups! Click here for the April 2022 Daily Bible Reading Plan.
Pick up your free copy of the book, "Draw the Circle: a 40-Day Prayer Challenge," at church beginning Feb. 27. (Donations are being accepted toward the books in the church office.)
Worship with us (either in person or online) beginning on Ash Wednesday (March 2), and on Sunday mornings through Easter (April 17) to deepen your experience through the "Draw the Circle" sermon series.
Share your prayers and stories throughout this experience at church on our Prayer & Vision board (located under the balcony in the sanctuary) or online by following our Instagram page @fumchurch.
Gather with a "check-in" partner or join a small group to meet weekly (including some virtual meeting options) and watch the videos, engage in discussion, pray, and encourage one another. Groups are meeting on Sundays, Mondays and Wednesdays beginning the week of March 6.  Click here to register your participation in one of the following:

Sunday morning groups, beginning March 6: Faith in Everyday Life (Room 207), Christian Fellowship Group (Room B003), Faithful Families Group (Room B005), Growing in Christ Group (both in-person Fellowship Hall and on Zoom), and the New Member Group (Fellowship Hall). These groups meet from 9:45 to 10:45 a.m. on Sundays.
Monday Joy in the Morning Group, beginning March 7: With Janice Bowen, 1:00 to 2:00 p.m. on Zoom.
NEW!! Wednesday evening program for all ages, beginning March 9: Includes children, youth and adults. Meets from 6:00 to 6:45 p.m. Optional: Bring your own dinner and enjoy fellowship time beginning at 5:15 p.m. in Fellowship Hall.
Wednesday evening study with Pastor Denny, beginning March 9: 6:45 to 8:00 p.m. in Room B003.
Wednesday evening men's group, beginning March 9: With Barry Eaton/John Bowen, 8:00 to 9:00 p.m. on Zoom (or outside at Barry's home, weather permitting).
Wednesday lunch & learn for women, beginning March 9: With Tina Eaton, noon to 1:00 p.m., in person under the balcony in the sanctuary.

Check-in Partners – No time for a group? Sign up to be matched with a "check-in" partner and meet in person or on Zoom (if you already have a check-in partner, please let Tina Eaton know).
Independent Study – No time to check in with a partner? Sign up to participate independently and receive the videos to watch on your own. Need more accountability? Follow up on Instagram @fumchurch and participate in the online discussion.
Draw the Circle prayer journals (cost $5) also are available while supplies last.
You do not have to be a member of First Church or of any church to participate! For more information, call or email Tina Eaton at 717.766.4611 or
adultministry@fumchurch.com
.