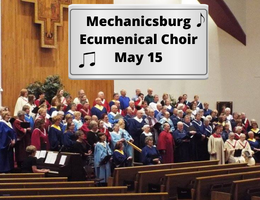 The Mechanicsburg Ecumenical Choir's annual concert is returning after a two-year absence!
The concert will be held on Sunday, May 15, at 3:00 p.m. at St. Joseph Catholic Church, 400 E. Simpson St., Mechanicsburg.
The Mechanicsburg Ecumenical Choir is a community chorus made up of volunteer singers from multiple Christian denominations. The Choir's annual concerts were cancelled during the COVID-19 pandemic.
First Church member Kathie Bittenbender will conduct the choir, and member Karen Philp will accompany. Also, First Church's Praise Ringers (bell choir) will participate in the concert.
The concert is free and open to the public. A freewill offering will be taken, with all proceeds going to New Hope Ministries.