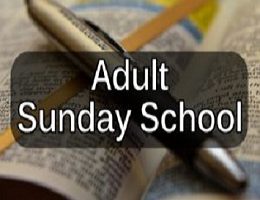 Fall Sunday School classes at First Church resume on September 8. Sunday School runs from 9:30 a.m. to 10:30 a.m.
We offer classes for each grade level from pre-school to high school seniors, as well as various class options for adults. Walk-in visitors and new class members are always welcome in all classes!
Here are the options for adults:
· GROWING IN CHRIST (Room B004) – A class for people of all ages and stages of faith that engages in short-term studies intended to challenge thinking and create fruitful conversation of Christian principles.
· FAITH IN EVERYDAY LIFE (Room 207) – A group of singles and couples age 25ish and above, but all are welcome. A discussion-based class that values friendship. Come discuss a variety of contemporary topics related to living out the Christian faith, compassion, and social justice.
· FAITHFUL FAMILIES (Room B005) – This class is made up of parents who are in the child-raising stage of life, and who enjoy discussion-based Bible studies related to living a faithful, Christ-centered life.
· CHRISTIAN FELLOWSHIP (Room 223) – A multi-generational adult class that selects short-term studies which generate challenging discussion of Christian principles.
· HELPING HANDS CLASS (Room 105 in office wing) – A group of active seniors who focus on studies designed to provide encouragement and instruction on living a life of faith. Interactive studies and discussions are led by several class members. Also, class members enjoy many Christian social activities together.
· GUYER CLASS (Room 123) – A well-established group of elders in the church who study together using the United Methodist Quarterly Adult Bible Study lessons. Each lesson is focused on scripture, and encourages participants to live a faith-filled life.
For information on adult Bible studies held during the week and other small-group opportunities, contact Tina Eaton at adultministry@fumchurch.com or call the church office at 717-766-4611.