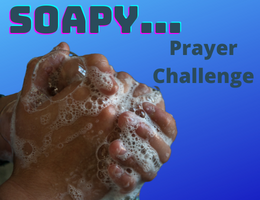 Prayer unlocks our intimacy with God. But, prayer is not always easy because it requires practice and discipline. The good news is that the more we practice prayer, the easier our conversation with God will be.
This February, First Church invites you to participate in the SOAPY (Scripture, Observation, Application, Prayer and Yield) Prayer Challenge. This method involves daily Scripture reading with thought on to how it applies to your life right now. Participants are encouraged to record their reflections, observations, and insights in a prayer journal.
Here is how it works:
Scripture: Open your Bible and select a piece of scripture to read. One suggestion: Use our daily Bible reading plan, which goes along with our sermon series.  Use a journal to write down the scripture reference for what you are reading.  Take your time and allow God to speak to you as you read the words. When you are done, look for a word or phrase that particularly spoke to you, and write it in your journal.
Observation: Why do you think that word or phrase spoke to you? Is God saying something to you personally in this scripture? Ask the Holy Spirit to reveal this to you.  Write your thoughts down.
Application: Personalize what you have read by asking yourself how it applies to your life right now. Perhaps it is instruction, encouragement, revelation of a new promise, or corrections for a particular area of your life. Write how this scripture can apply to you today.
Prayer: This can be as simple as asking God to help you use this scripture, it may be a greater insight into what He may be revealing to you, or it may be a prompting to do/pray something for someone else. Write down your thoughts.
Yield: Yield your heart to God… give Him authority over your words, your actions and your thoughts. This requires sacrifice on our part and submission to God's will, but it also means we get to contribute to God's glory!
You do not have to be a member of First Church or of any church to participate in SOAPY. Blank journals are available at the prayer display under the balcony at church, or email Tina Eaton at
adultministry@fumchurch.com
to receive one. Happy praying!