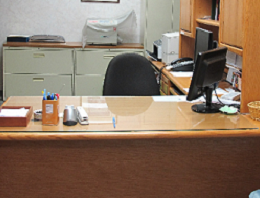 First United Methodist Church in Mechanicsburg is accepting applications for the position of Office Manager. This full-time position (40 hours/week) is responsible for managing the day-to-day operations of the church office in a way that contributes to the ministry efforts of the staff, committees, ministry teams, and church members.
The qualified candidate will have a personal, vital and growing relationship with Jesus Christ; excellent communication, computer and organizational skills; experience with desktop publishing; and an exceptional ability to work independently, multi-task and meet multiple deadlines.
Major tasks include responding to phone calls, emails, and visitors; coordinating all internal church communication (emails, bulletins, newsletters); maintaining church membership records; scheduling of building use for all activities; maintaining records of all monetary donations and electronic giving; coordinating computer support and maintenance of all office equipment; and recruitment of volunteers to assist in office tasks.
Salary commensurate with experience and capabilities. Interested candidates should e-mail a resume to office@fumchurch.com. For a complete job description or more information, e-mail the church at the above address, or call 717.766.4611. Please submit resumes by June 3, 2019.