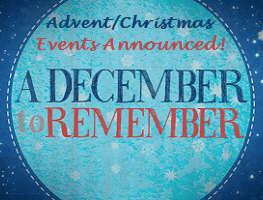 First Church invites the community to attend one or more of the special events and worship services we have planned for Advent and Christmas.
During Advent we will be offering livestreamed and recorded services. The church will follow all appropriate safety measures and protocols for in-person events.
Nov. 29 Worship 8:15 a.m. (online)
Dec. 1 Rejoicing Spirits Fireside Worship 7:00 p.m. (on Zoom)
Dec. 6 Worship and Holy Communion 8:15 a.m. (online)
Service of Remembrance and Hope 4:00 p.m. (Please pre-register with Janice Bowen at wecare@fumchurch.com)
Dec. 13 Worship 8:15 a.m. (online)
Christmas Caroling 4:00 p.m. in the parking lot (rain date Dec. 20)
Dec. 15 Worship 8:15 a.m. (online)
Rejoicing Spirits ~ Jesus's Birthday Celebration 7:00 pm (on Zoom)
Dec. 20 Worship 8:15 a.m. (online)
(Christmas Caroling raindate)
Dec. 24 Christmas Eve Worship Services at 4:00 and 7:00 p.m., and online

4:00 p.m. ~ Outdoor Service
45-minute service for all ages. Concludes with candle lighting. Bring your own chair(s).
7:00 p.m. ~ Sanctuary Service*

For all ages. Includes communion. Concludes outdoor with "Silent Night" and candle lighting. The indoor portion will be livestreamed, and a recording will be available after the service through our website.

"Any Time" Family Service
Pre-recorded and available on our church website so that you can worship when you wish. Contact Dawn Fisher and Anna Harris at kidscount@fumchurch.com ahead of time to receive a Christmas kit, with items to be used during the service.
*Pre-registration for this service is strongly encouraged for our planning purposes. Space is limited to 25 percent capacity. Please visit https://fumchurch.com to pre-register.