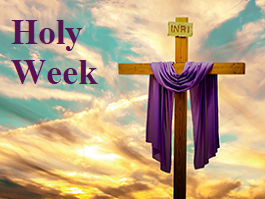 Although we cannot physically gather this Holy Week, First Church invites and encourages you to join us for the following events and worship services from the safety of home.
Passion Play – This event was cancelled for the safety of our community, but we invite you to experience its powerful message through the new Passion Play Home Edition posted on our website here ("Resources, Fun and Faith" tab). The Passion Play re-enacts the events of Holy Week, beginning with Jesus' entry into Jerusalem and concluding with his crucifixion and resurrection.
Maundy Thursday Service, April 9, 7:00 p.m. – Join us on our website for music, a message, and communion. To partake in Holy Communion, use your own crackers and juice while our pastors provide instructions.  Click here to view the service.  To view the bulletin for the service, click here.
Good Friday Prayer, April 10 – Pastor Denny will open the day online at 9 a.m. with prayer and instructions via the Mechanicsburg and Upper Allen Area Churches Facebook page. Feel free to pray for others throughout the day, using this Prayer Guide. The day concludes at 3:00 p.m. with a closing prayer from Pastor Marleen Griffith-Stull of St. Mark Lutheran Church via the Facebook page.
Easter Worship Services, April 12 – He is Risen! Join us live for the Sunrise Service at 6:30 a.m. via our Facebook Page, First United Methodist Church of Mechanicsburg, PA. We will also air our Easter worship service through our website starting at 8:15 a.m here.