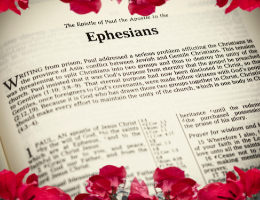 Throughout the pandemic, First Church members have been more devoted to prayer than ever. To deepen our collective commitment to prayer, the pastors and staff of First Church announce the "Ephesians 1 Prayer Challenge" in June. All are invited and encouraged to participate!
Paul's four-part prayer in Ephesians 1 provides a powerful format to personalize and pray for someone.  We encourage you to think of a person or persons you would like to pray for during the month of June, and to use this condensed format from verses 17-21 to pray for them daily:
I am asking that the God of our Lord Jesus Christ may give (name) the Spirit of wisdom and revelation, so that (he/she) may know God better.
I pray that the eyes of (name's) heart may be enlightened in order that (he/she) may know the hope to which (he/she) is called.
I pray that (name) may know the riches of God's glorious inheritance in (him/her), and know God's incomparably great power for us who believe… the same power that raised Christ from the dead!
And I pray that (name) will know Jesus, in whom God placed all rule and authority, power and dominion, and every name that is invoked under, not only now, but also in the time to come. Amen.
Participants also can adapt this prayer format into their own words.
Praying this prayer for someone over 30 days will have powerful results!  Just imagine if everyone truly knew God in a way that brought deep hope, an understanding of God's power, a knowledge of their worth to God, and an abiding relationship with Jesus.
You do not have to be a member of First Church or of any church to participate in the prayer challenge. If you have questions for want to share a story related to this, email Tina Eaton at  adultministry@fumchurch.com.