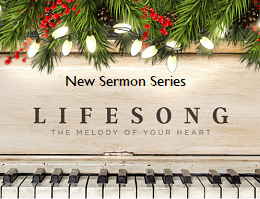 In the Bible, choruses of individual praise play a crucial role in the Christmas narrative. These are the original Christmas carols!
The pastors of First Church will explore the significance of music in the Christmas story through "LifeSong," a series of messages each Sunday during Advent. Themes include the songs of Zechariah, Mary, Joseph, and the Shepherds.
Why are there so many songs in the Christmas story? Perhaps the revelation of and response to our Messiah, Jesus the Christ, requires more than words can satisfy. Perhaps the emotion and joy that soars in these songs give greater opportunity to express the Glory that was found in Jesus!
Daily Bible readings are recommended to accompany each weekly message. Click here for a complete list of them.
During Advent, First Church will be offering livestream worship on Sunday mornings at 8:15 a.m. on our website at fumchurch.com and our Facebook page at First United Methodist Church of Mechanicsburg, PA. The service can also be viewed anytime later that morning on our website. For more information, call the church office at 717.766.4611 or office@fumchurch.com.