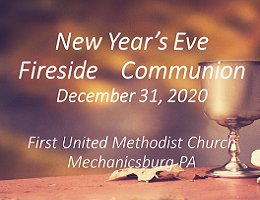 New Year celebrations are a time for reflection and hope.
First Church is offering a special worship service on New Year's Eve (Dec. 31), to reflect on the past year and look ahead to the new one. Click here to view the pre-recorded service on our website after 3:00 p.m. on Thursday, December 31.
"As we reflect on the past year, many of us see challenges," said First Church Pastor John Shellenberger, who will lead the service. "But I trust we share faith that Jesus Christ gives us hope. We are confident as we stand on the promise of His presence with us in the year to come."
Participants are invited to prepare bread and cup at home, to join in Communion during the service.
You do not have to be a member of First Church or of any church to join in the service. For more information, call or email the church at 717.766.4611 or office@fumchurch.com.