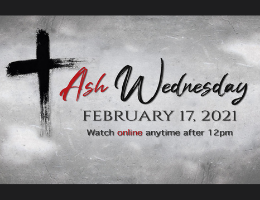 First Church invites the public to join us online for a worship service in honor of Ash Wednesday on Feb. 17.
Ash Wednesday is the day when Christians gather to begin and prepare spiritually for the 40 days of Lent, leading up to Easter. It is traditional for Christians to have ashes placed on their forehead by clergy members in observance of this special day.
In adherence to COVID-19 safety protocols, First Church continues to hold all of its worship services virtually. Because we will not meet in person for Ash Wednesday, our pastors have prepared a brief instructional video on how to prepare your own ashes. Click here to watch the video in advance of the service.
We will also be observing Holy Communion at this service. Remember to bring your own crackers or bread and fruit juice.
The Ash Wednesday Service will be available to view anytime after noon on our website at fumchurch.com on Wednesday, February 17.  See the Ash Wednesday bulletin here.