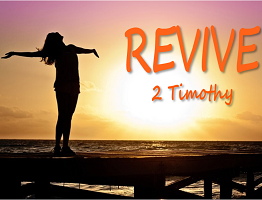 The pastors of First United Methodist Church will present "REVIVE", a new sermon series on persevering through life's struggles and difficulties. The public is invited and encouraged to attend!
The toughness of Navy Seals has become well known through movies and books. Becoming part of this elite group requires surviving grueling tests of mental, emotional, and physical toughness. And then there is the infamous bell. The bell is ever present while the Seal trainees endure the intense exercises; and all they must do to quit and receive a nice meal, hot shower, and clean bed is to ring it three times. The temptation is always there to say, "I quit!"
Sometimes, we may feel like ringing the bell and saying, "I quit!" To a discouraged young pastor named Timothy, Paul writes, "…revive God's gift that is in you!" (2 Timothy 1:6). Paul's practical guidance in the opening chapter of this letter points the way for Timothy, and all of us, to experience a vibrant life in Jesus.
The following sermons will be presented during the 8:15 and 10:45 a.m. Sunday worship services:
Oct. 6 "Be Connected" (2 Timothy 1:1-6)
Oct. 13 "Be Bold" (2 Timothy 1:7-9)
Oct. 20 "Be Grounded" (2 Timothy 1:10-14)
For an audio recording of the sermons and all sermons presented at First Church, click here.