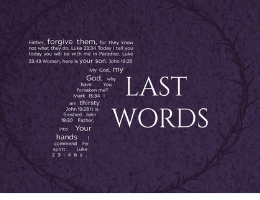 The pastors of First Church will present a series of sermon messages on the "Seven Last Words" of Jesus during worship services this Lenten season.
The messages, based on the book The Hope of Glory by Pulitzer Prize winning presidential historian and lifelong Episcopalian layman Jon Meacham, reflect on the gospel accounts of the final words of Jesus during the six hours he suffered on the cross. The "words," or more accurately statements, of Jesus convey in a powerful way the message of the Savior's radical love. May we experience anew the depth of his love for us, and discover the meaning of his words for us today.
In addition, Senior Pastor Denny Keller will lead a Bible study based on the new book Seven Words: Listening to Jesus From the Cross, by Susan Robb. Robb is the Senior Associate Minister at Highland Park United Methodist Church. The group will meet via Zoom on Wednesday evenings beginning Feb. 24, from 6:45 to 8:00 p.m. To register, please email pastordenny@fumchurch.com by Feb. 21. Participants are invited but not required to order a copy of the book.
First Church offers worship via Livestream on Sunday mornings at 8:15 a.m. on our website at fumchurch.com and our Facebook page at First United Methodist Church of Mechanicsburg, PA.  Recordings of our services can be viewed anytime on our website at fumchurch.com.
You do not have to be a member of First Church or of any church to worship with us or participate in the Bible study. Find the Daily Bible Reading plan here, which corresponds to a personal reflection in the 2021 Lenten Devotional Booklet.  For more information, call or email the church office at 717.766.4611 or office@fumchurch.com.
Feb. 21                 "Father, Forgive Them"
Feb. 28                 "Today You Will Be with Me in Paradise"
March 7                "My God, My God"
March 14             "Woman, Here Is Your Son"
March 21             "I Am Thirsty"
March 28             "It Is Finished"…"Into Your Hands"