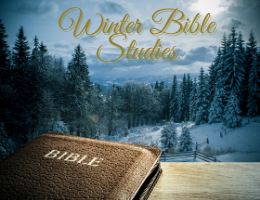 First Church is pleased to offer the following online Bible studies via Zoom beginning this winter. All are invited and encouraged to join one!
You do not have to be a member of First Church or of any church to participate in the Bible studies. For more information, call or email the church at 717.766.4611 or office@fumchurch.com.
Online Study on the Prophet Elijah
Best-selling author Priscilla Shirer offers this study of the Prophet Elijah's personal story. Learn to understand the value of seasons of growth and testing in your spiritual maturity, learn His purposes for your life, and be encouraged to wait on God's good work.
This seven-session online Bible study begins Feb. 16 and runs through Lent. The $24.99 registration fee includes the online videos and workbook, and access to bonus materials and occasion live discussions with Ms. Shirer. Register at https://onlinestudy.lifeway.com/v/ElijahOBS. Scholarships are available to help cover the cost.
First Church is offering an additional opportunity to discuss the videos on Wednesdays over lunchtime via Zoom. If you are interested in joining this discussion, contact Tina Eaton at adultministry@fumchurch.com.
Seven Words: Listening to Christ from the Cross
Join Pastor Denny via Zoom to explore in-depth the seven last words of Christ on the cross, each from a Biblical and historical perspective. This unique study offers a hopeful and contemplative look at the cross during the weeks of Lent. The six-week study begins Wednesday, Feb. 24 at 6:45 p.m. Contact Pastor Denny at pastordenny@fumchurch.com to sign up and receive the zoom link for this online study.
Wednesday Men's Group: Race and the Gospel
In this five-part series, race, racism, and injustice will be addressed using Paul's words in Ephesians. Through teaching and honest dialogues, this group will discuss a way forward toward healing, justice, and hope for multiethnic harmony in the church. The group meets via Zoom on the first and third Wednesdays of each month, at 8:00 p.m. Contact Barry Eaton at 1785eaton@gmail.com if interested.
Jesus in Me – Experiencing the Holy Spirit as a Constant Companion
In this eight-session Bible study, you will learn why the Holy Spirit is a divine necessity and not an optional extra in the Christian life, and develop a more intimate relationship with the Holy Spirit in the process. Led by First Church member Juanita Guise, this group will meet on Thursdays from 7:00 to 8:15 p.m. via Zoom, beginning Jan. 28. Contact Juanita ASAP at kguise@comcast.net to register and receive your workbook, along with the Zoom link for this online study.
Men's Bible Study: Walking in Power, Love & Discipline
This study began in the fall with Paul's letters to Timothy, and resumes this winter with completion of Timothy and further study of Paul's letter to Titus. These letters provide timeless lessons in sound doctrine (real truth) and sound discipline (right behavior) for all times. New group members are welcome at any time! Led by First Church members Ken Guise and David Mengle, the group meets on Sundays at 6:15 p.m. via Zoom. Contact Ken at guiseken100@gmail.com for details and the Zoom link.
Moms in Prayer
Several First Church women are engaged in continual prayer for our children and students through the Moms in Prayer international group. New members are invited to join at any time! The group meets on Monday evenings via Zoom from 7:30 to 8:30.
What a blessing is it to join other mothers and grandmothers in lifting our children in prayer! This group prays for children at any age and stage of life! Contact group leader Deb Noss at sdppp@msn.com to learn more, or for the Zoom link.