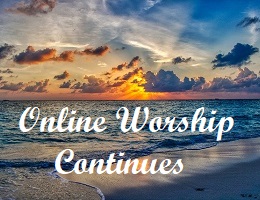 First United Methodist Church in Mechanicsburg announces plans to continue holding all worship services and other activities online for now, even as some Pennsylvania counties move to the yellow phase of the COVID-19 quarantine.
First Church closed its building to the public in mid-March, following recommendations established by the Susquehanna Conference of The United Methodist Church and the Commonwealth of Pennsylvania.
"First Church is committed to ensuring the safety of its members and the public," said Senior Pastor Dennis R. Keller. "Until restrictions are lifted and we can hold larger gatherings, we will continue to hold worship and other activities online."
"Public health officials advise that in the yellow phase indoor gatherings be limited to 25 people," Keller continued. "Even if we gather in multiple spaces throughout our building, we will still have to exclude most of our congregation. Nor can we welcome new members into our congregation."
While First Church has temporarily closed its doors, its ministry in the Mechanicsburg community has remained active. Congregants gather online weekly for worship, Christian education classes, and other small group events. The church also has arranged for collections of food and personal care items to help local residents in need, and continues to stock the Little Free Food Pantry on its property.
First Church looks forward to the day when we can safely gather as a church community again.
"Until then, we ask the community to please pray with us in this time of national crisis," Keller said. "Pray for the suffering and the grieving, for the helpers and the researchers, and for public servants and community leaders."
First Church's staff continues to accept calls and emails at this time. Members of the public are invited to contact the church at 717.766.4611 or office@fumchurch.com.