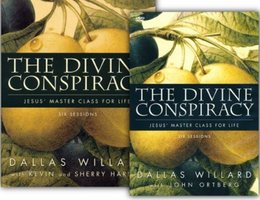 "How am I allowing Jesus to be a part of my daily life here and now?"
Beginning in May, First Church will explore the answer to this important question through "Divine Conspiracy," a six-week study written by well-known Christian teachers Dallas Willard and John Ortberg. Powerful and thought-provoking, the study offers a timely and challenging call back to the true meaning of Christian discipleship.
Two study times are available:
Wednesday Women's Group – Begins May 18 and meets from noon to 1:15 p.m. Led by Tina Eaton, First Church Director of Adult Ministry.
Wednesday Evening Group – Begins May 11 and meets from 6:45 to 8:00 p.m. Led by First Church Senior Pastor Denny Keller.
A group participant guide will be provided. Cost is $7. Participants who wish can additionally read the book "Divine Conspiracy," available from any online book retailer.
All are welcome! You do not have to be a member of First Church or of any church to participate. All participants are asked to pre-register for the study. Click
here
to register, or call or email the church at 717.766.4611 or
office@fumchurch.com
.