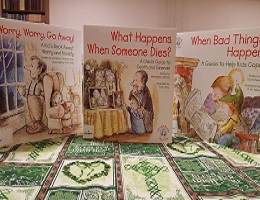 First Church maintains a Children's Library with a variety of Christian-based books. In light of recent tragic events, First Church prayerfully invites parents and adults to browse the library and consider checking out books written to help children understand and cope with sad things.
Specifically, First Church offers the following children's books: Worry, Worry Go Away, What Happens When Someone Dies, When Bad Things Happen, and When Your Grandparent Dies.
The library is open on Sunday mornings. Books can be checked out under the parents' account and can be borrowed for up to two weeks.
For more information, call or e-mail First Church at (717) 766-4611 or office@fumchurch.com.