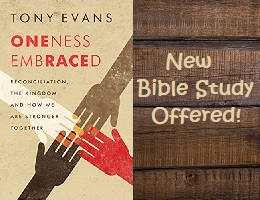 First Church will offer " Oneness Embraced," a Bible study by Dr. Tony Evans that explores reconciliation from God's Kingdom perspective, and how we are stronger together.
The six-week study begins Sunday, Jan. 24. Classes will be held via Zoom from 10:00 to 11:00 a.m.
The Bible study is free and open to the public. You do not have to be a member of First Church or of any church to participate in the Bible study.
To register or for more information, call or email First Church at 717.766.4611 or office@fumchurch.com.