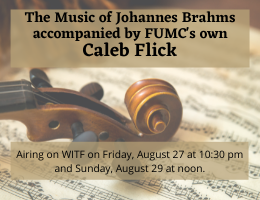 First United Methodist Church invites you to view a pre-recorded concert featuring our very own pianist/organist, Caleb Flick.  The concert will be shown on PBS on Friday, August 27 at 10:30 p.m. and again on Sunday August 29 at noon.  The 'Music of Johannes Brahms' concert will feature local and international artists, accompanied on the piano by Caleb. Tune in to PBS or set your DVR to enjoy Brahms' most beautiful music! Click here for the trailer to the concert. 
https://www.youtube.com/watch?v=ln-53DIrPKw
.
You can listen to more of Caleb's music on Sunday mornings via our Livestream at 8:15 a.m. on our FB page, First United Methodist Church of Mechanicsburg, PA or via our website at
fumchurch.com
.