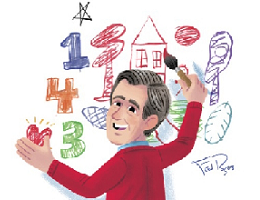 First Church will observe 143 Day, a celebration of the life of Fred Rogers and his lifelong effort to promote kindness in the world.
143 Day, celebrated on May 22 (the 143rd day of the year), is a statewide movement to inspire kindness and neighborly deeds. Those who wish to participate are encouraged to share their acts of kindness on social media at #143PA.
Rogers created and starred in Mister Rogers' Neighborhood, the beloved children's series that ran on PBS from 1968 to 2001. The late children's television pioneer often spoke of "143" as representative of the brand of goodness he wanted to bring to the world. There's one letter in "I," four in "love," and three in "you" – hence, 143.
Born in the small town of Latrobe, the cardigan-wearing ordained minister was proud of his Pittsburgh-area roots.
First Church invites everyone to join us in celebrating!