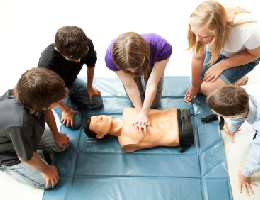 Are you interested in learning CPR and how to use an AED? The Health and Wellness Committee of First Church (who hold regular monthly CPR classes in Jacksonville) will hold a training on Sunday, May 15, from 12:15 to 4:15 p.m.
In addition to covering CPR and AED use, the 4-hour training will prepare participants to recognize life-threatening emergencies, and to relieve choking in adults, children and infants.
Cost is $10 a person. Participants must be pre-registered. Space is limited, so reserve your spot soon! To register, call or e-mail Janice Bowen, Director of Congregational Care, at (717) 766-4611 ext. 112 or wecare@fumchurch.com.