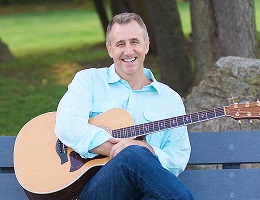 Great Night Out has been postponed.  Please check our website for updated information.
First Church will host singer, songwriter, guitarist and humorist Mark Cable. All adults (not just couples!) are invited to attend.
Join us on Friday, March 13, for one of Cable's famous "Great Night Out" concerts, featuring two hours of fun, fellowship, music and great stories. Dessert will be served.
The show begins at 7 p.m. The concert is free, but those who wish to attend are asked to pre-register here.
A love offering will be accepted. For more information on Cable, visit his website here.