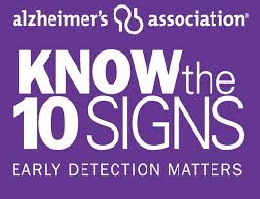 First Church will present "Know the 10 Warning Signs of Alzheimer's," a live webinar, on April 27 from 6:30 to 8 p.m. The event is free and open to the public.
Alzheimer's and other dementias cause memory, thinking and behavior problems that interfere with daily living. Join us to learn how to recognize common signs of the disease, how to approach someone about memory concerns, the importance of early detection and benefits of a diagnosis, possible tests and assessments for the diagnostic process, and other Alzheimer's Association resources. Questions will be accepted electronically during the webinar.
The webinar will be presented by First Church member Nancy Routch, an Alzheimer's Association Community Educator with the Penn State Extension of Cumberland County, as part of the church's Health and Wellness Committee.
Participants must be pre-registered. Go to https://action.alz.org/mtg/60729012 or call 1-800-272-3900 to register. Participants will receive a meeting code and downloadable handouts in advance of the webinar.