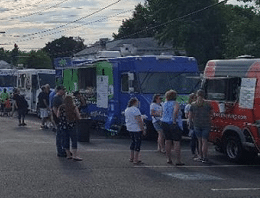 The Third Friday Food Trucks return to First Church on Oct. 18, the final time for 2019. Join us in the church parking lot from 4:30 to 8 p.m.
In addition to good food and music, the event offers a fun time to meet and socialize with other community members. First Church will provide tables and chairs, and free parking including handicapped accessible parking.
Check out the Facebook page at First United Methodist Church of Mechanicsburg, Pa. for details, and an updated list of food trucks for each event.