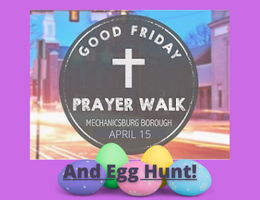 First United Methodist Church and Mechanicsburg churches invite the community to participate in a Good Friday Prayer Walk ending with a children's Easter Egg Hunt.
The goal is to cover the town of Mechanicsburg in prayer.  Prayer walkers will gather on the lawn at Mechanicsburg First Church of God, 28 E. Main Street, at 10:30 a.m. on Friday, April 15.  Participants will walk and pray throughout the Mechanicsburg community in groups.  Focus areas of prayer include but are not limited to:  local parks, churches, schools, library, police and fire departments, etc.  Prayer prompts will be provided for adults and children and each group will have a prayer leader.
All participants will then reconvene at 11:30 on the lawn at Trinity Evangelical Lutheran Church, 132 E. Main Street, for a brief closing prayer.  Children ages 2 to 12 will be invited to participate in the Easter Egg Hunt!  Children are asked to bring their own basket/container to collect the plastic Easter eggs.  A container will be provided if they do not have one.  All are welcome to participate!  No registration required, the event will take place rain or shine.  Parking is available at both Trinity Lutheran and Mechanicsburg First Church of God or on the street.
For all the details, visit trinity-on-main.org.