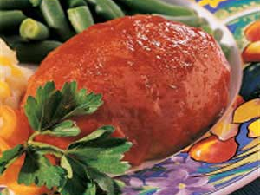 We are sorry for the inconvenience, but the Ham Loaf Dinner has been cancelled.  Thank you for understanding.  See you next year!
Join us on Saturday, March 21 for a Ham Loaf Dinner at First Church.
Ham loaf, a central Pennsylvania tradition, is a mixture of fresh pork, smoked ham and other ingredients, served with a tangy, sweet sauce. The meal will include green beans, potatoes, rolls, applesauce, a beverage and assorted desserts. Chicken nuggets will be available for children.
Dine in or get a meal to go. Cost is $11 for adults, and $5 for children ages 4 to 12. Children 3 and under are free. Tickets can be purchased at the door or in advance. Proceeds benefit First Church's missions and ministries.
The dinner runs from 4:00 to 6:30 p.m. For tickets, call or e-mail the church at 717.766.4611 or office@fumchurch.com.