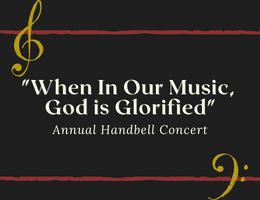 The Handbell Choir of First Church will present its annual concert on Sunday, May 22, at 7:00 p.m. in the church sanctuary. The concert is free and open to the public.
This year's theme is "When In Our Music God is Glorified." The choir members pray that they glorify our Lord as they play for you at this concert and during Sunday morning worship throughout the year.
The concert is free. A freewill offering will be taken at the concert, with proceeds benefiting a trip that the Handbell Choir will take to Nashville this summer for the International Handbell Symposium.
All guests are invited to stay for refreshments following the concert.