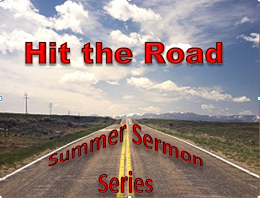 Just before he ascends into heaven, Jesus gathers his disciples together one last time to give them his final instructions. He leaves them with the directive to "go and make disciples of all nations. Join us to explore the adventures of being a follower of Jesus. Are you ready to GO?
Beginning June 30, the pastors of First Church will present "Hit the Road," a sermon series based on Jesus' final instructions, during Sunday morning worship services at 8:15 and 10:45.
June 30: Hit the Road (Matthew 28:16-20)
July 7: Worth Stopping For (Acts 2: 1-4)
July 14: U-Turn (Acts 9:1-6)
July 21: Road Less Traveled (Luke 10:25-37)
July 28: Headed Home (Luke 15:11-32)
All are invited and encouraged to attend! For more information, call or e-mail the church at 717.766.4611 or office@fumchurch.com.