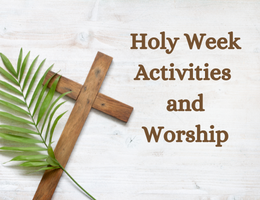 First Church announces the following Holy Week services and events. All are invited to join us as we experience the hope and joy found in the Good News that Christ is Risen! 

April 10: NEW! Palm Sunday Eggstravaganz

a, 1:00 p.m.

Join us for a Passion Play Watch Party and Easter Trivia. We will view a recording of a past Passion Play as performed by members of First Church.

For more details,

click here.

April 14: Maundy Thursday Worship, 7:00 p.m.

A special service in remembrance of the Last Supper of Jesus with his disciples. In-person in the sanctuary and livestreamed.

April 15: Good Friday Prayer Walk, 10:30 a.m.

Gather at Mechanicsburg First Church of God, 28 E. Main Street, for this community-wide event as we circle our town in prayer! A children's Easter egg hunt will be held immediately following.

For more

details,

click here.

April 17: Easter Sunday Worship

6:30 a.m. – Sunrise Service at the Mechanicsburg Cemetery, led by our Youth

8:30 a.m. – Foundation Service (traditional)

11:00 a.m. – The Gathering Service (blended contemporary and traditional)

 All are welcome! You do not have to be a member of First Church or of any church to attend our Holy Week events.

All events listed will be held in person. The Maundy Thursday and Foundation Service on Easter morning will additionally be available via livestream or on the church website after each service.