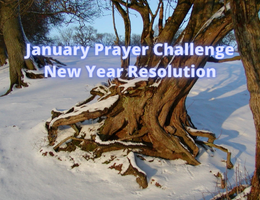 What does the word resolution mean? It comes from the Latin word "resolvere", which means "to loosen". We can also find it in the Bible in Psalm 51:10… "Create for me a pure heart, O God! Renew a resolute spirit within me!" (New English Translation). In this context, the word means to be "firm, established, rooted, prepared". So, to be successful in making a resolution, we must loosen our grip on the things we hold on to in order to stand firm and be rooted in Christ!
For early Christians, the first day of the new year became the traditional occasion for thinking about one's past mistakes and resolving to do and be better in the future. In 1740, John Wesley, founder of Methodism, created the Covenant Renewal Service, most commonly held on New Year's Eve or New Year's Day. Also known as known as watch night services, they included readings from Scriptures and hymn singing, and served as a spiritual alternative to the raucous celebrations normally held to celebrate the coming of the new year. Read more about this month's prayer challenge and John Wesley's Covenant prayer here.
You do not have to be a member of First Church or of any church to participate in the prayer challenge. If you have questions or want to share a story related to this, email Tina Eaton at
adultministry@fumchurch.com
.