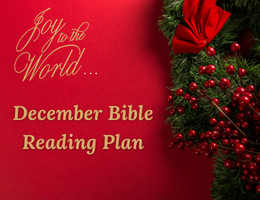 As you decorate, wrap gifts, and prepare for Christmas celebrations, don't forget to take time during Advent to prepare your heart through reading scripture and reflecting in prayer! Experience joy in your spiritual journey as you focus on the Word and remember to adore Jesus above all.
You can use the scriptures below in your daily prayer time. But we encourage you to enrich the experience by reading "Joy to the World," the devotional book that accompanies this reading plan. The book was written by Pastor John Piper, founder and teacher of
DesiringGod.org
and chancellor of Bethlehem College & Seminary. Free copies are available at our church Welcome Stations or by contacting Tina Eaton at
adultministry@fumchurch.com
. In addition, follow us on Instagram (@fumchurch) for daily scripture reminders and personal reflections recorded by church staff and other members.
December 1                Luke 1:16-17               Prepare the Way
December 2                Luke 1:46-55              Mary's Magnificent God
December 3                Luke 1:68-71               The Long-Awaited Visitation
December 4                Luke 2:1-5                   For God's Little People
December 5                Luke 2:6-7                   No Detour from Calvary
December 6                Luke 2:12-14               Peace to Those with Whom He's Pleased
December 7                Matthew 2:1-2            Messiah for the Magi
December 8                Matthew 2:2               Bethlehem's Supernatural Star
December 9                Matthew 2:3               Two Kinds of Opposition to Jesus
December 10              Matthew 2:10-11        Gold, Frankincense and Myrrh
December 11              Hebrews 2:14-15         Why Jesus Came
December 12              Hebrews 8:1-2             Replacing the Shadows
December 13              Hebrews 8:1-2             The Final Reality is Here
December 14              Hebrews 8:6                Making it Real for His People
December 15              John 10:10                   Life and Death at Christmas
December 16              Philippians 2:9-11       God's Most Successful Setback
December 17              Jeremiah 31:31           The Greatest Salvation Imaginable
December 18              John 17:18                   The Christmas Model for Missions
December 19              Hebrews 2:14-15         Christmas is for Freedom
December 20              1 John 3:8                    Christmas Solidarity
December 21              John 18:37                   The Birth of the Ancient of Days
December 22              John 20:30-31             That You May Believe
December 23              Romans 5:10-11          God's Indescribable Gift
December 24              1 John 3:7-8                The Son of God Appeared
December 25              1 John 3:7-8                Three Christmas Presents