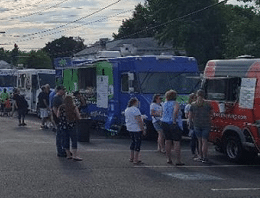 The Third Friday Food Trucks return on Friday, July 17! The trucks will serve in the church parking lot from 4:30 to 8:00 p.m.
Food will be takeout only due to recent restrictions, and guests are asked to follow physical distancing guidelines.
We will be welcoming the following trucks: 717 Taco, Lucky Penny Burger,Philly Hoagie, Potato Coop, Kona Ice and Doggie Delights (treats for dogs).
Mark your calendar now for upcoming Food Truck dates on August 21, September 18, and October 16.
Please Like our Facebook page at First United Methodist Church of Mechanicsburg, Pa. for updates and future events.