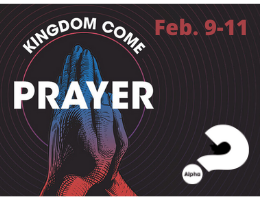 Did you know that the search for "how to pray" on Google increased by 50 percent in 2020? We all are searching for answers and guidance, and want to pray more – for ourselves and our loved ones, our country, the church, and the world!
Through our connection to Alpha, everyone is invited to join hundreds of others from all over the world in the freeing work of praying together.
Specifically, from Feb. 9 to 11, we encourage you to pray faith-filled prayers for God's kingdom to come on Earth as it is in heaven. You can pray during a lunch break, in the middle of the night, or any time in between.
We invite you to be a part of this movement of pray! Sign up to pray from home on your own for a specific hour (or more!) during those days at https://alphausa.org/kingdom-come-prayer. You will receive an excellent, free download of the Kingdom Come Prayer Guide.
If you have questions, contact Tina Eaton at adultministry@fumchurch.com.