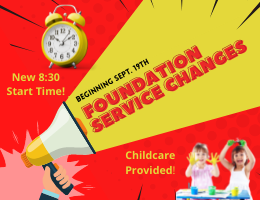 Beginning Sept. 19, First Church's Foundation worship service will begin at 8:30 a.m. In addition, childcare now will be available during this service for those age 6 and under.
This is a slight shift from the previous start time of 8:15 a.m., made in response to feedback from the congregation and prayerful consideration among staff and leaders of First Church.
The 8:30 start will allow more time for members and guests to arrive. It also allows more time for our ushers, sound/media team, pastors and all who lead or participate in the service to prepare. In addition, we hope that by offering childcare, families will feel more welcome and encouraged to attend.
First Church's Sunday School classes and enrichment time will now be held from 9:45 to 10:45 a.m., also a new start time. Our later worship service, The Gathering, will remain at its current time of 11:00 am.
For those who are unable to attend in person, the Foundation service is available via livestream at 
www.fumchurch.com
. A recording of the service also is available on the website to view at any time.
The Foundation service offers a more traditional worship experience, while The Gathering service offers elements of contemporary Christian worship.
All are welcome at First Church! We invite you to worship with us this fall. If you are interested in learning more about First Church, please call the church office at 717-766-4611 or
office@fumchurch.com
.