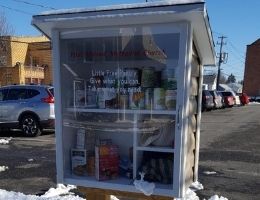 First Church is collecting nonperishable food items for the Little Free Pantry located on our property to help local families in need.
The Little Free Pantry collection will take place on Wednesdays from 1:00 to 3:00 p.m. in the parking lot of First Church, 135 W. Simpson St., Mechanicsburg through February 24.
The items will be placed in the Little Free Pantry, as needed, throughout the winter months. Requested items include: pasta and sauce, peanut butter, canned vegetables, canned soup, snack bars, snack crackers, cereal, macaroni and cheese and any non-expired, nonperishable food items. For more information about the Little Free Pantry movement, visit their website at https://www.littlefreepantry.org/.
You can find a complete list and the collection dates on our Facebook Page at First United Methodist Church of Mechanicsburg, PA.