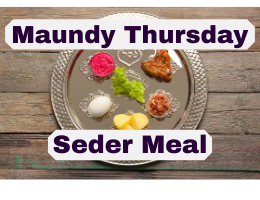 First Church invites the community to join us for the Maundy Thursday Seder Meal and worship service on April 1.
Due to the ongoing pandemic, First Church's Maundy Thursday service will only be available online. We invite you to join us on our website at fumchurch.com or Facebook Page (First United Methodist Church of Mechanicsburg, PA) any time after 4 p.m.
Maundy Thursday is the part of our Holy Week when we remember Jesus' Last Supper with his disciples. In the Passover meal, Christ shows the link between the ancient Festival of Redemption in Exodus and Christ as the Lamb of God.
First Church's Maundy Thursday service will be visual and participatory. Worshippers will have the opportunity to see, taste, and reflect over a table set with traditional Passover items. Celebrating the Passover story helps enrich one's faith and understanding of Christ in the Last Supper and delivers a universal message of hope. We will use scripture as well as visual and worship elements to walk through the Jewish Passover Seder, weaving the story of Exodus with the life, death and resurrection of Christ.  See this video from Sarah Pugh with simple instructions.
First Church encourages worshippers to gather the items listed below in advance to prepare for the Maundy Thursday service.
Candles and matches/lighter
Damp washcloth or napkin/paper towel
A bowl of water to wash hands
Ceremonial foods
3 pieces of unleavened bread (the traditional bread is Matzo, but you may use naan bread or tortillas)
Karpas (a green vegetable- parsley, celery, cilantro, or lettuce). One stem per family member.
Salt water in a small dipping bowl.
Maror, the bitter herb (horseradish)
Charoset/Haroset (a traditional apple/walnut mixture – you can find a recipe online or mix apple sauce with graham crackers for a nut-free version)
Hagigah (hard-boiled egg)
Shank bone of a lamb (you may use a bone from chicken, turkey, or other meat with a small bone instead)
Red juice and cups – one cup per family member
Your normal full meal – there will be time for you to enjoy fellowship over your regular dinner