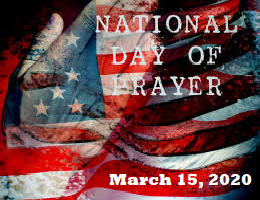 Sunday, March 15, 2020 has been designated as a National Day of Prayer. This comes after the president's national emergency declaration in response to the international outbreak of COVID-19.
Throughout our history, our country has looked to God for protection and strength in times like these. You are invited to join us in prayer using the prayer guide, provided to us by Moms in Prayer International. See Prayer Guide here.
And may the peace of God, which transcends all understanding, guard your hearts and your minds in Christ Jesus.