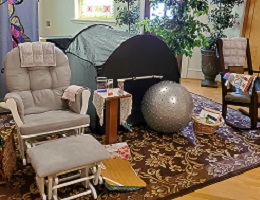 The Body of Christ is made stronger and more beautiful when everyone can participate. To that end, First Church has created a new sensory space at the back of its sanctuary.
The sensory space is intended for individuals – both children and adults – who have special sensory needs. The space contains intentionally selected tools and items to help calm or stimulate individuals based on their unique needs. For example, a rocking chair can provide a calming rhythm, or a small tent can provide a sense of safety.
In addition, noise-cancelling headphones are available at the sensory space and at the sound booth. The headphones can help individuals who may otherwise feel overwhelmed by the sounds of worship.
The sensory space was initiated by the church's Access Ministry Team, a group that works to make First Church's worship experience and programs available and easily accessible to individuals of all abilities.
Materials for the sensory space were made possible in part with a grant from the First Church Endowment Fund.