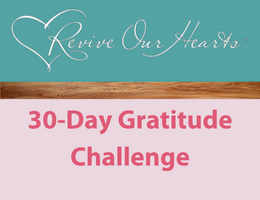 During this Thanksgiving season, let's practice the spiritual discipline of gratitude together!
Cultivating a heart of gratitude is the beginning of your journey to joy. First Church encourages you to take notice of what God does in your heart over this next month by participating in the 30-Day Gratitude Challenge.
The Challenge was created by Revive Our Hearts, a ministry dedicated to growing in love for the Word and the Lord Jesus. Revive Our Hearts has developed an easy-to-use guide with daily devotional challenges to help you grow in gratitude. An optional prayer journal additionally allows participants to document their journey.
All are encouraged to participate! You do not have to be a member of First Church or of any church to join in the Gratitude Challenge.
Find the 30-Day Prayer Challenge here or pick up copies at the Prayer Display under the balcony in the church sanctuary.
We encourage participants to share their stories of how this challenge blesses you! Contact Tina Eaton at  adultministry@fumchurch.com with your story, or if you have any questions.