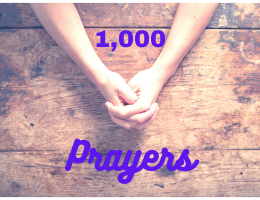 First Church invites the community to join us for "One Thousand Prayers," to spread joy and blanket our community in prayers of care! Due to the ongoing pandemic, we are not gathering as a group, but encourage participants to pray where they feel led!
"One Thousand Prayers" kicks off on Good Friday, April 2, and runs until the end of the month. Our goal is to collectively pray for 1000 places (at least!) for four weeks. Other area churches are joining us in this prayer journey.
All are welcome to participate. You do not have to be a member of First Church or any church to pray with us. Here's how it works:
Contact Tina Eaton, Director of Adult Ministry, to say you'll pray.
Pick up your Free prayer kit which contains prayer prompts, suggestions on places to pray (although you are encouraged to pray wherever you feel led by the Spirit), ten "We Prayed for You" door hangers, and a pocket journal to jot down where you prayed, who you prayed for, and any promptings you discern from the Holy Spirit.
Provide feedback to Tina so we know if we have reached our goal.
If you have questions or would like to participate, please email Tina at adultministry@fumchurch.com. Thanks for joining us in prayer!