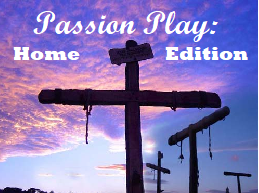 For the first time in 30 years, First Church will not present its annual Passion Play. The event, scheduled for April 8, was canceled in observance of the recent measures to curb the spread of the coronavirus.
The Passion Play re-enacts the events of Holy Week, beginning with Jesus' entry into Jerusalem and concluding with his crucifixion and resurrection. More than 60 church and community members, young and old alike, rehearsed for months to bring the story to life.
"They can take the Passion Play out of the church, but they cannot take the play out of our hearts," said Dawn Fisher, Co-Director of Children's Ministries at the church.
The Children's Department has devised an "At Home" edition of the Passion Play. The script has been transformed into a readable story so that families can experience its powerful message from the safety of their homes.
In addition, all are invited to take Passion Play-themed photos with their family. For example, grab your favorite instrument for a pic to recognize the Blowing of the Shofar, the traditional opening of the Passion Play. Or, join in a group hug to commemorate the Last Supper and Jesus' command that we love one another.
Then, email your photos to kidscount@fumchurch.com. Church staff will use the photos to create a video, showing how we can still honor God and celebrate the Easter message from our homes.
Click here for a copy of the "At Home" edition and click here for a list of photo ideas.
Questions, contact the children's department at kidscount@fumchurch.com.