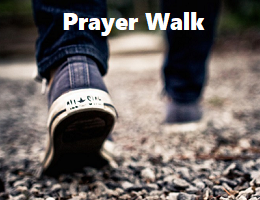 If there's ever been a time for followers of Jesus to come together in prayer, it's now as we face this global pandemic and health crisis.
First Church typically participates in the Mechanicsburg Good Friday Prayer Walk. Members of several area congregations form groups, and walk to locations throughout our town to blanket them in prayer.
We cannot physically meet for this year's Prayer Walk, but we invite the community to join us online and for independent prayer on April 10.
If there's a day for all of us to be in prayer, it makes sense for it to be Good Friday. This is the day we remember Jesus' death on the cross.
Here's the schedule of events.
9:00 a.m. Pastor Denny will start our day live streaming on the Mechanicsburg and Upper Allen Area Churches' Facebook page.
Daytime From there, you can pray from wherever you are as you feel led. A prayer guide will be posted on the FB page for direction. You can also find the Prayer Guide here.
3:00 p.m. Pastor Marleen Griffith-Stull from St. Mark Lutheran Church will conclude our day via video stream with the Lord's Prayer on the Mechanicsburg and Upper Allen Area Churches FB page.
We hope you will partner with us as we pray for healing, hope, and for God's Will to be done on Earth as it is in Heaven.  See Good Friday Prayer flyer here
.