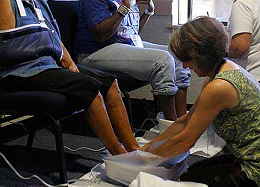 First Church will hold the 2020 Day of Pampering on Saturday, Feb. 29. This is a special day to honor primary care providers…..mothers of children with disAbilities and wives of husbands with disAbilities. After giving so much of themselves, it's their turn for some pampering, connecting and renewal.
Morning refreshments are provided, followed by worship and a guest speaker. The women are then served an elegant luncheon. Following lunch, women are pampered for the afternoon! They can enjoy manicures, a massage, relaxation techniques, hair styling and other services, as well as a tea and dessert room, all at no cost!
Service providers are still needed! In particular, we still need 1 Hair Stylist, 2 Table Massage Therapists, 3 Chair Massage Therapists and volunteers to assist throughout the day. If you are willing to volunteer your time, please call or e-mail the church at (717) 766-4611 or office@fumchurch.com.