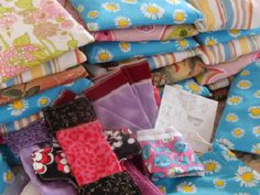 The United Methodist Women of First Church invites volunteers to help prepare feminine hygiene kits on Saturday, Jan. 12, in the church Fellowship Hall starting at 8:30 a.m.
Feminine hygiene kits provide basic necessities to young women in underdeveloped nations, allowing them to continue in school all month long. The kits are being assembled and distributed through Mission Central in Mechanicsburg.
Specifically, volunteers are needed to help sew several items to be included in the kits. No sewing experience is necessary! Instructions and materials will be provided, but volunteers are asked to bring sharp scissors, rotor cutters, quilting rulers and cutting mats as able.
Mission Central, a warehouse and affiliate of the Susquehanna Conference of The United Methodist Church, collects and distributes relief supplies and humanitarian aid locally, nationally and internationally as needed in response to natural disasters and other crises.
To participate or for more information or to donate items to make the kits, call or e-mail the church at 717.766.4611 or office@fumchurch.com. To learn more about Mission Central and the Feminine Hygiene Kits, visit www.missioncentral.org.