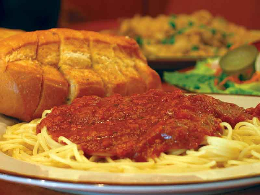 First Church will hold an all-you-can-eat spaghetti dinner this Saturday, June 6, 2015, from 4:00 to 6:30 p.m. Join us for a delicious meal of spaghetti, salad, bread, dessert and drinks.
The cost is $8 per adult (age 13 and up), and $5 for children ages 3 to 12. Children under the age of 3 are free. Proceeds benefit the First Church bell choirs, and their trips to national and international bell festivals.
For more information, call the church at (717) 766-4611.