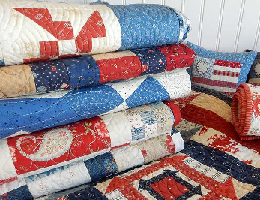 First Church will present patriotic-themed quilts, handmade by the Squares and Prayers group, to veterans during worship services led by Re-Creation on June 23.
Re-Creation is a team of talented performers that travels across the United States to inspire and enhance the lives of hospitalized veterans with their uplifting performances. The group is known as 'America's ambassadors to hospitalized veterans,' as they have served across our nation in VA Medical Centers and State Veterans homes for 40 years.
Re-Creation will perform in concert at the church on June 22, and lead the 8:15 and 10:45 a.m. worship services on June 23.
"Veterans are a cause that is close to my heart," said Nancy Eddy, who helped craft the quilts. Her late husband, John Eddy, served in the U.S. Air Force for 21 years. Nancy's stepson also served in the military.
Last November, church members who served in the military were invited to request a quilt in grateful recognition of their service. Nearly 30 quilts will be presented to veterans or those who currently serve in the military.
All of the quilts were made in fabrics of red, white and blue, but no two quilts are alike. The quilts each contain a unique design, handmade by the church's Squares and Prayers group. Additionally, the quilts were personalized with the embroidered name of the recipient.
Squares and Prayers, a group of just five members, began producing the quilts in January. Special thanks for their efforts, and to all who contributed toward the cost of producing the quilts.