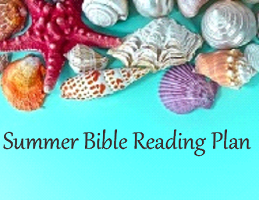 First Church invites you to stay focused on Jesus this summer, using the daily reading plan that has been specifically designed to complement the weekly sermons.
All are invited to participate. You don't need to be a member of First Church or any church to read along with us. Find the daily reading plan here.
Our prayer is that as you read each day, you will add to your knowledge and deepen your relationship with God.
So find a cool spot and dig into the Scripture! Then come to worship each Sunday to hear the accompanying sermons. You can also listen to the sermons on our website.
Free Bibles are available at the display across from the Welcome Desk, along with a copy of the daily reading plan and a prayer journal. Large print Bibles are also available.
For more information, call or email the church office at 717-766-4611 or office@fumchurch.com.