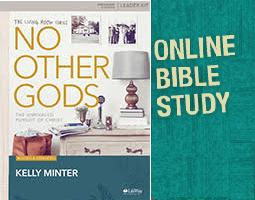 Looking for a Bible study that goes with you this summer? We invite you to participate in the convenience of an online study which features a workbook and teaching videos that come directly to your inbox.
The study, 'No Other Gods' by Kelly Minter, starts June 18. In this study, we'll learn to identify the functional gods we unknowingly serve and the lies they tell. The cost is $12.99 and includes the workbook. We will come together on July 15 and August 26 to discuss the study.
For more information and to register, contact Tina Eaton at adultministry@fumchurch.com by June 10.