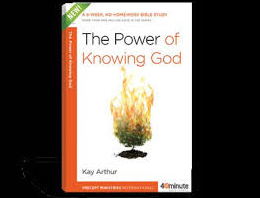 First Church will offer "The Power of Knowing God," a men's Bible study by Precept® Ministries, this spring.
Beginning March 15, the group will meet on Sunday evenings at 6:15 p.m. in room 207. The six-week, "no homework" study will be led by First Church members Ken Guise and David Mengle.
All are welcome to participate! You do not have to be a member of First Church or of any Church to participate in the Bible study.
Participants are asked to pre-register for the Bible study. The $7.99 cost covers the workbook.
For more information or to register, call or email the church office at 717.766.4611 or office@fumchurch.com.