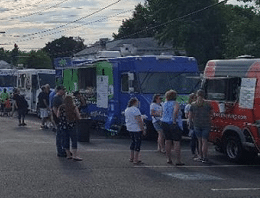 First Church is pleased to announce that the Third Friday Food Trucks return for the last time this season on Friday, October 15. The trucks will serve in the church parking lot from 4:30 to 8:00 p.m.
We will once again provide tables and chairs to enjoy your food, along with free parking. We will be welcoming the following food trucks: Mad Dash, Grappling Crab, Potato Coop, Philly Hoagie on a Roll,  and Sugar Whipped (check our FB page for any last-minute changes in trucks).
Please Like our Facebook page at First United Methodist Church of Mechanicsburg, Pa. for updates and future events.